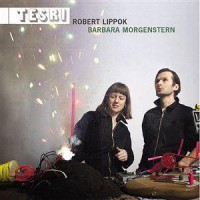 Barbara Morgenstern and Robert Lippok's beautiful Tesri album has its roots in a 2001 commission for Domino's Series 500 imprint, where they soundtracked the moods of each of the seasons across twenty-one near perfect minutes. On Tesri, which is an Arab-rooted Turkish word meaning to accelerate, the music feels partly coloured by their separate visits to Istanbul. But this music is exotic and rich rather than kitschly 'eastern-sounding', and is full of seasonal detail which runs from remote sunsets, insect hum and dust, to a crisp, wintery stillness by the end of the album.
Over the course of the album Morgenstern and Lippok, each Berlin residents, allow each other space and time to leave their own distinctive imprints and trails all over the place, setting up themes and adding to ideas, and flowing into each other. Lippok is of course, more usually at the core of To Rococo Rot, whose morse code repetitions and melodic inventiveness he brings across to this project, jamming up with Barbara's energy and cut and odd pop musicality. It's an understood music, this, through touring and collaboration, and into the sound mesh other musicians bringtheir own distinctive styles; vocalists, Damon Aaron from Telefon Tel Aviv (solo album coming soon on Plug Research), with a gorgeous almost Robert Wyattesque vocal on If The Day Remains Unspoken For, and a real find, London-based Japanese musician, Mieko Shimozo on Kaitusburu and Otuskimi. Ronald Lippok and Bernd Jestram inevitably contribute; drums on Winter, and guitar on Gammelpop respectively, Jestram also engineering most of the project.
Recorded in Berlin between 2002 and 2004, Tesri features piano, guitar,
micromodular, flute, drums, software synths, computer. It has a certain sound we associate with these musicians, both in their own solo work or in group projects, but Tesri is its own dot on the map, its own light lighting up, and it not only complements these other musics, it's its own magical listen.
Stephen Pastel
About the Artists:
Barbara Morgenstern has been with Monika Enterprise since it started. This is her fourth full length album for the Monika label.
Robert Lippok is part of the pioneering electronic band To Rococo Rot. He already released one album "Falling into Komëit" on Monika last year.
Tracklist:
01 Please wake me up for meals 
02 Kaitusburi 
03 Ginza 
04 White wise rabbit 
05 Sommer 
06 Ein knoten aus schwarz 
07 Gammelpop 
08 Otuskimi 
09 If the day remains unspoken for 
10 Geisterjäger 
11 Ein Mädchen namens Stalin 
12 Winter
Biographie
| | |
| --- | --- |
| 2018 | Release "Unschuld & Verwüstung" @Staatsakt/ Oct. 2018 + shows, theater work: composition for children´s choir "Do´s & Dont´s" - Rimini Protokoll, HAU Berlin, Essen Pact, Kamnagel Hamburg, Shottish National Theater Glasgow/ Paisley, Venedig Biennale |
| 2017 | Recording of "Unschuld & Verwüstung", theater work "Truck Tracks/ Essen/ Ruhrtriennale"/ Rimini Protokoll |
| 2016 | Choir work "Lautarchiv" with A.Benjamin Meyers & Hauschka/ HKW, thater composition "brain projects" by Rimini Protokoll, Schauspielhaus Hamburg |
| 2015 | Finishing "Doppelstern", Choir Work "Fragen an das Licht" for the Zero retrospective/ Martin Gropius Bau + Atonal Festival Berlin |
| 2014 | Recordings for "Doppelstern", Musical Direction Radioplay "Qualitätskonrolle" by Rimini Protokoll, Production of "Stille Vann" - female Bandproject by barner 16 |
| 2013 | Musical direction for "Qualitätskontrolle" by Rimini Protokoll, Staatstheater Stuttgart |
| 2013 | Choir work ("California"/HKW, "Virtuosity"/Kammermusiksaal Berliner Philharmonie, etc.) |
| 2012 | Release of the album "Sweet Silence" and live shows |
| 2012 | Musical direction and choir work for "Lagos Business Angels" by Rimini Protokoll, HAU 1, Theater Hebbel am Ufer, Berlin |
Contact
info [yeah] barbaramorgenstern [yeah] de
» Impressum
» Datenschutz
Booking
Hotellounge - info [yeah] hotellounge [yeah] de (Mail)
Booking NL
BLiP Agency - jeroen [yeah] blipagency [yeah] com (Jeroen van den Bogert)
Booking UK
Bit-Phalanx - bookings [yeah] bit-phalanx [yeah] com (Léigh Bartlam)
Spaces