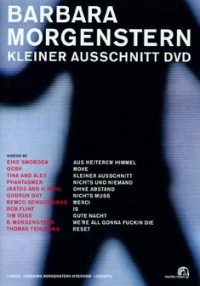 On this DVD compilation 10 artists, from musician to VJ, from the Netherlands via Berlin, Dresden and Hamburg to London, have taken tracks from "nichts muss" to wed intimacy and electronics, each in their own inimitable way.
No matter if enticingly blurred caresses (Gute Nacht), a race against the self (Move) or classic, deconstructive graphic and video art (Is) – "Kleiner Ausschnitt" (small detail) is no regular video collection, but a very personal view of Barbara's innermost substance, combining her unique lack of distance (as seen in her live shows), music, lyrics and personality with the filmmakers' own visions, who go on to underline, contrast, enhance, change, abstract and contextualise this proximity.
Barbara herself pops up just once. Barely there, distorted, almost too close, but only just. And then, in the accompanying introduction, she shows herself: to explain, recount, relate – completely unafraid of exposing her innermost self.
Kleiner Ausschnitt: a small detail and deep insight into one of Germany's most challenging songwriters.
Tracklist:
01 Eike Swoboda - Aus heiterem Himmel 
02 ocbk - Move 
03 Tina und Alex - Kleiner Ausschnitt 
04 Tim Voss - Gute Nacht 
05 Phantasmen - Nichts + Niemand 
06 Jantos / H.Rühl - Ohne Abstand 
07 Gudrun Gut - Nichts Muss 
08 Remco Schuurbiers - Merci 
09 B. Morgenstern - We´re all gonna fucking die 
10 Rob Flint - Is 
11 Thomas Fehlmann - Reset
Biographie
| | |
| --- | --- |
| 2018 | Release "Unschuld & Verwüstung" @Staatsakt/ Oct. 2018 + shows, theater work: composition for children´s choir "Do´s & Dont´s" - Rimini Protokoll, HAU Berlin, Essen Pact, Kamnagel Hamburg, Shottish National Theater Glasgow/ Paisley, Venedig Biennale |
| 2017 | Recording of "Unschuld & Verwüstung", theater work "Truck Tracks/ Essen/ Ruhrtriennale"/ Rimini Protokoll |
| 2016 | Choir work "Lautarchiv" with A.Benjamin Meyers & Hauschka/ HKW, thater composition "brain projects" by Rimini Protokoll, Schauspielhaus Hamburg |
| 2015 | Finishing "Doppelstern", Choir Work "Fragen an das Licht" for the Zero retrospective/ Martin Gropius Bau + Atonal Festival Berlin |
| 2014 | Recordings for "Doppelstern", Musical Direction Radioplay "Qualitätskonrolle" by Rimini Protokoll, Production of "Stille Vann" - female Bandproject by barner 16 |
| 2013 | Musical direction for "Qualitätskontrolle" by Rimini Protokoll, Staatstheater Stuttgart |
| 2013 | Choir work ("California"/HKW, "Virtuosity"/Kammermusiksaal Berliner Philharmonie, etc.) |
| 2012 | Release of the album "Sweet Silence" and live shows |
| 2012 | Musical direction and choir work for "Lagos Business Angels" by Rimini Protokoll, HAU 1, Theater Hebbel am Ufer, Berlin |
Contact
info [yeah] barbaramorgenstern [yeah] de
» Impressum
» Datenschutz
Booking
Hotellounge - info [yeah] hotellounge [yeah] de (Mail)
Booking NL
BLiP Agency - jeroen [yeah] blipagency [yeah] com (Jeroen van den Bogert)
Booking UK
Bit-Phalanx - bookings [yeah] bit-phalanx [yeah] com (Léigh Bartlam)
Spaces